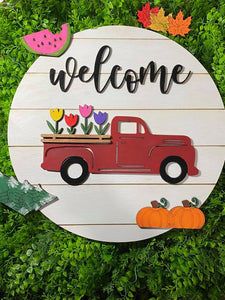 This 15 inch Welcome interchangeable sign offers fun and engaging visual for your guests when they come to visit! 

This sign is hand-painted with care and created for the perfect gift. Created with 2 layers of wood or MDF adds a beautiful effect. Pieces can be switched out depending on season or holiday! Comes with 6 pieces more can be added on send me a message to inquire! 

Created using both birch for the background and MDF for the painted

***When ordering if you'd like other colours please send me a message at checkout or the sign will be shipped in the colours in the picture.